Where to buy guitar pedals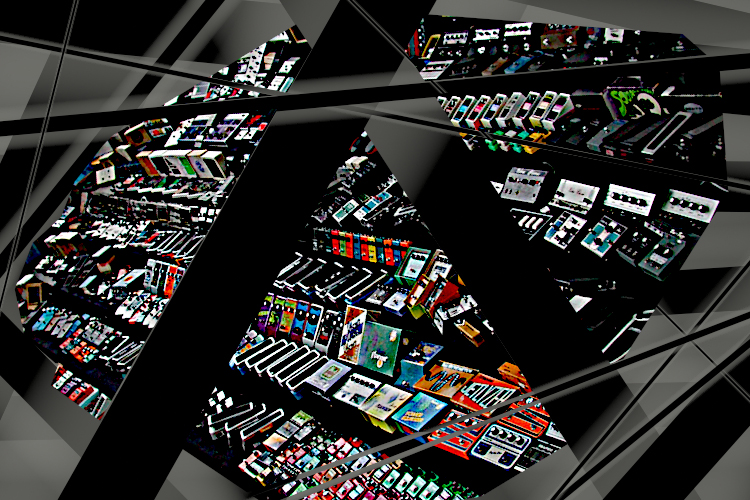 Often the answer to, where to buy guitar pedals, can be a fairly personal subject to your relative location, social media habits, general budget, the types of pedals you're aiming to buy and much more.
To answer the question effectively we've broken sections into 5 different options with their individual pros & cons.
1. Shops, for first hand purchases
The best thing about shops of course is the ability to try the pedals out. The closest you can get to this experience is what we work hard to provide you, the TonePedia interactive demos which we strongly advise you try before buying using any of the following methods. If you like the pedal you can take it straight home right there and then!
This is always subject to that specific pedal being in stock when you arrive and if the shop has similar guitars/amps to those in your rig it certainly can help your decision, but so long as the staff are super friendly like those at Flipside Music & the Sweetwater shop then you should have a great experience.
Many shops are online too now and even if you simply place a mail order you're still covered by your basic consumer rights which can be well worth the peace of mind that buying new offers.
2. Straight from the manufacturer
The upside of this mirrors the consumer rights of shops plus you're directly supporting the people making the gear. The downsides can be that some manufacturers will not sell direct and as many are often working on batch orders for stores, the wait times can be longer than that from a music shop (but not always so make sure to ask first about stock).
Another bonus here is some manufacturers offer mods not available on the "off the shelf" models. It's not unknown for repeat customers to receive discounts or early access to new releases too.
On TonePedia, products feature "Buy Now" buttons which will refer you to a place where you can find the specific product, often close to your location.

Dedicated second hand sites
We're going to avoid discussing thrift shops as the experience is different from place to place. Also many people sell their second hand pedals on Reverb, Ebay & Facebook Marketplace now. If you do find something at a bootsale or similar then great job 👏
Reverb.com is the only dedicated music gear online store of the three and will almost always have what you're looking for including vintage pedals plus many manufacturers have their own Reverb shops. Reverb offer their own level of consumer and seller protection too which can be helpful. There's also a useful "make an offer" function too, but be careful not to low ball people or else the seller may simply not respond.
4. Ebay
Ebay.com can be a great place to find excellent deals and vintage gear. A great tip here is to try miss-spellings and different names such as generic "fuzz pedal" "guitar pedal" type searches. Many a great deal has been had this way, however we urge you to always be fair to the buyer as someone selling a Klon for $10 may not know the true value of what they have.
On the flipside, if you win a bid cheap if others aren't interested in something you want then that's always great.
5. Facebook Marketplace
Facebook Marketplace is similar to Ebay without the bidding and is often the place to get the best deals. However it's also the most "Wild West" of the choices on this list with no cover for your purchases. We advise checking how long a seller's account has been active and if they have a decent number of friends (if you have mutual friends then consider asking these people about the seller).
Also paying using a system such as PayPal but not via the friends & family feature. Some of these provide cover in case the product never arrives or is broken when it does, however this does depend on PayPals investigation of the issue, they don't always favor either side 100% so there is still a risk. Please always be extra careful when meeting people in person for such things, let others know where you're going, when you're expected home and if possible take others with you.