For maximum satisfaction we recommend using Chrome or Firefox as browser
Got it!
Thorndal
Thorndal is a boutique manufacturer of electric guitars, electro-acoustic guitars, pedals and guitar parts from Thiersheim, Germany.

One of the companies most know creation is their prize winner Duane '69 overdrive pedal which offers the unique "input" control which allows the player to dial the pedal to fit his pickups. Another known creation of Thorndal is the Nemesis EA acoustic-electric guitar which allows performing guitar players to enjoy un-compromised amplified acoustic tone on stage.

Thorndal put the musician first. They shared with us that they do not build what they would not play and use themselves. Being a small professional team guarantees their instruments to be top quality.
Visit manufacturer page
Thorndal Duane '69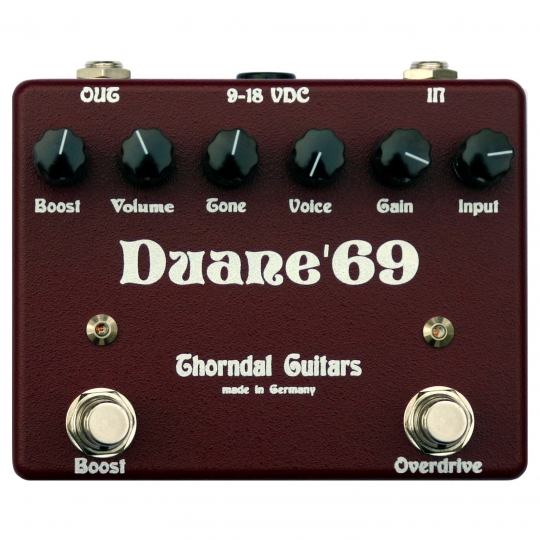 Feel the response and attack of your rig... The Thorndal Duane '69 is a two in one pedal. Left switch is a boost - clear and transparent. Dial it back to get a minus boost or crank it to get an amp-like boost. Right switch is the overdrive - extremely organic and dynamic. What make the Duane '69 dynamic and versatile are the Tone, Voice and Input controls. Tone - Treble cut. Dial it clockwise to cut the treble.Voice - Bass cut. Dial it clockwise to cut the bass.Input - Volume & low-mid regulator. Use it to match the Duane '69 to the pickups you use on your guitar. It is a brilliant knob, we loved it. Gregor Olbrich is the mind behind Thorndal. The guitar builder was desiring a boost/overdrive that alters your core tone as little as possible.  We think it's mission accomplished!Little advice: The Duane '69 operates on battery or on regulated 9-18 Volt adapter. Thorndal recommends to feed it with 12 Volt for maximum satisfaction, which is how the TonePedia demos were recorded.