For maximum satisfaction we recommend using Chrome or Firefox as browser
Got it!
Tate FX
There are many pedal, guitar and amp builders out there who don't actually play guitar.
At first that can seem a little surprising, but let us assure you some of these people are some of the best ... Leo Fender for example!

Stuart Tate is not one of these people.
Stuart studied music at the world reknowned Brighton Institute Of Modern Music and has become widely known in the industry as one of the biggest gear nerds in the UK.

Stu started modding pedals back in 2014 and as many people have done before he started building a few for friends ... and we all know how this story goes.
One of things which makes the Tate FX pedals stand out among the crowd is the build quality, in fact its not unknown for Stu to bin a project many others would release as a done deal simply because it makes an almost inaudible amount of background noise.

The use of the very best components and carefully thought out PCB's these are some of the tidest pedals internally you can find on the market too.
Visit manufacturer page
Tate FX Antares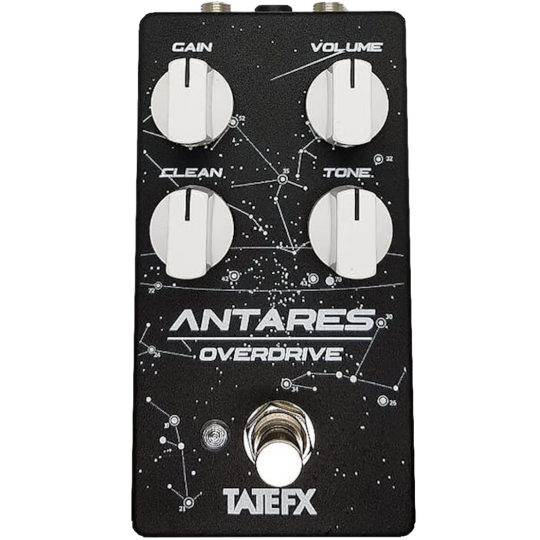 A bright light in a sea of stars The pedal world is densely populated, not least in the low gain overdrive sector. So when Tate FX created a design for a great sounding low gain, mid humped overdrive the question was asked ... Is this really needed? The answer was obviously yes, but why? Simply put along with the above average build quality, highest fidelity components and attention to detail we've come to expect from all Tate FX pedals there was also the approach of using Asymmetrical clipping with allows for greater dynamics and responsiveness. Stu Tate also worked long and hard on creating a clean blend which was more than the average strategically placed volume control. The blend control took nearly as long as the rest of the pedal to design as it was vital for every position to be musical. The Antares therefore is well named after one of the brightest stars in the night sky and is now being used by stars in their own right the world over. This pedal has won prominent positions on several gear groups annual awards and continues to be seen on an increasing amount of pedalboards online.
Tate FX Raise The Dead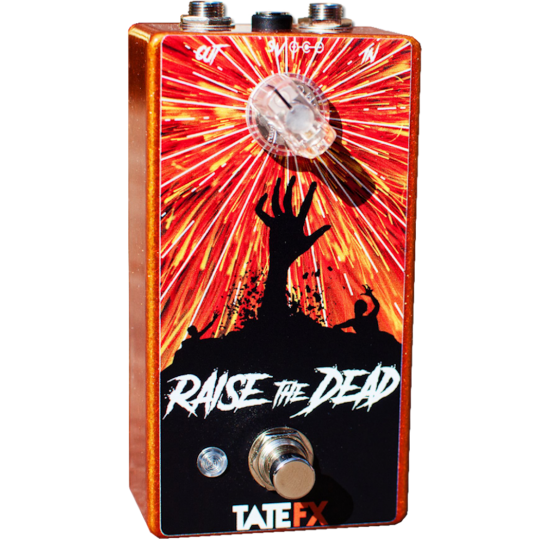 Like a zombie Raise the Dead hit the pedalboard world around 2017 and has been super popular. In a world where every new pedal tries to squeeze as many controls onto every mm of space, a pedal with a single knob it could be seen as a breath of fresh air. It could be the zombie theme as zombies were still in vogue at that point. Whatever the reason for the initial impact being so strong, what has maintained its presence is the sound and ingenuity. Here's why: STATEMENT :- Fuzz face type circuits sound their best when turned up full! Most things musical are subjective but this is not. However a lot of people do not attempt this SO Tate FX did it for them. The gain of the RTD is set to max and you dial in the required volume, as the volume increases you therefore push your amp harder causing amp clipping too. Internally a transformer deals with any external buffer interference making the RTD a pedalboard friendly fuzz.