For maximum satisfaction we recommend using Chrome or Firefox as browser
Got it!
Solodallas
Fil "SoloDallas" Olivieri is obsessed with Angus Young's tone for more than 30 years now. He tracked and bought every piece of gear Angus used in order to find that elusive tone of AC/DC's guitar player. One day he read in an interview done by Guitar Player Magazine with Young, about this wireless unit he uses; the Schaffer-Vega wireless system. Fil immediately tracked Ken Schaffer, the inventor of this unit, got two units sent to him, and the rest is history.

SoloDallas built an exact replica of the Schaffer-Vega wireless system. The Schaffer replica units the company offers are state of the art products which are being used by many leading artists out there like Angus Young, Ronnie Wood, Joe Bonamassa and Sting. They are all based on the original one which was used by AC/DC as well as many other famous bands and musicians during 1977-1981.
Visit manufacturer page
Solodallas The Schaffer Replica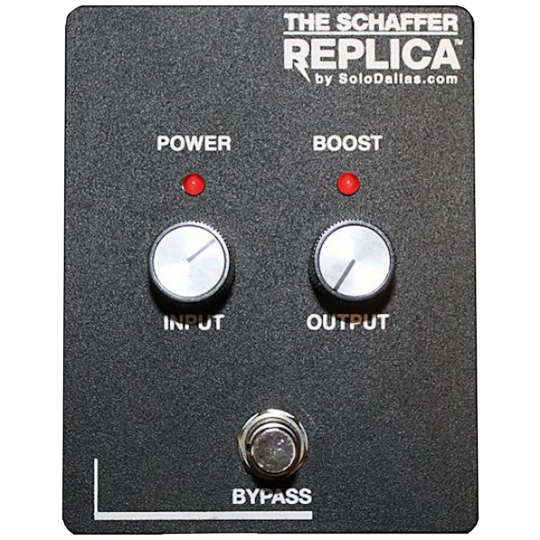 Boost your sound to no limit! The Schaffer Replica by Solodallas is a so called compander, a 100% analog pedal effect that houses a compressor and an expander in one box using SMD components. The compact pedal is a replica of the original Schaffer-Vega Diversity System and brings the famous sound heard on albums such as AC/DC's Back in Black and Highway to Hell. The TRS delivers a warm, clear and full tone and brings the sound of your signal to the foreground, a clean boost of up to 30db can be reached. The Solodallas "The Schaffer Replica" is a handcrafted and extremely versatile pedal effect that is loved by many genres.
Solodallas Storm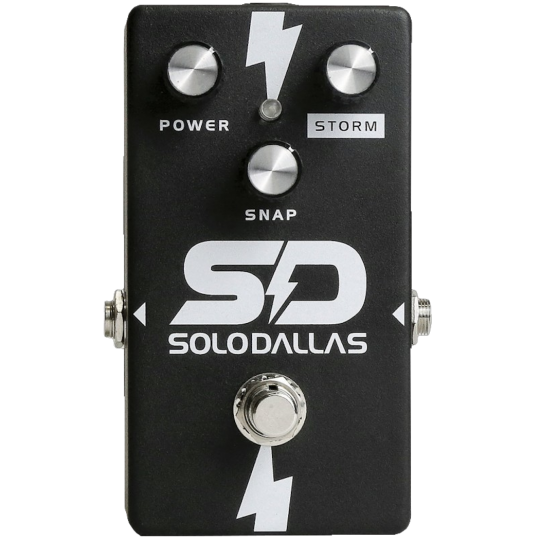 A pedal that boosts your sound!Storm is the latest increment of Solodallas' product line and replicates the original Schaffer-Vega Diversity System compander (compressor-expander) in a compact way. The circuit is 100% analog and delivers a clean boost of up to 30db. The Storm pedal effect is handmade in USA and contains high quality SMD components. The original version and big big brother of the Storm (The classic TSR) was used by many of the heaviest players in the industry, notably Angus Young himself on AC/DC's Rock or Bust album and tour. Guns n' Roses' Richard Fortus (close friend of Angus Young) is presently using the GT for the entire 2017 Guns n' Roses Not In This Lifetime Tour. Keith Urban, Pino Palladino, Keith Richards, Billie Joe Armstrong, Sting, Scott Metzger, Lettuce, Blackberry Smoke, The Biters, Airbourne, Isaiah Sharkey, and Coco Montoya are some of Solodallas' active artists who use the TSR onstage and in the studio.