For maximum satisfaction we recommend using Chrome or Firefox as browser
Got it!
Gamechanger Audio
Among the endless amount of pedal effects out there, a few are famous for changing the way guitar and music in general are played today. Gamechanger Audio's goal is to create only that kind of pedal effects.

Founded by four friends, the Latvian company made their debut at the 2017 NAMM show in LA with their sustain for all melodic instruments pedal - the PLUS. Soon after came the PLASMA pedal, a first of its kind Tesla coil equipped distortion which really sounds like no other.

Gamechanger Audio has been accepted by many musicians with great joy, we cannot wait to see what more will come from this young and innovative company.
Visit manufacturer page
Gamechanger Audio Plasma Pedal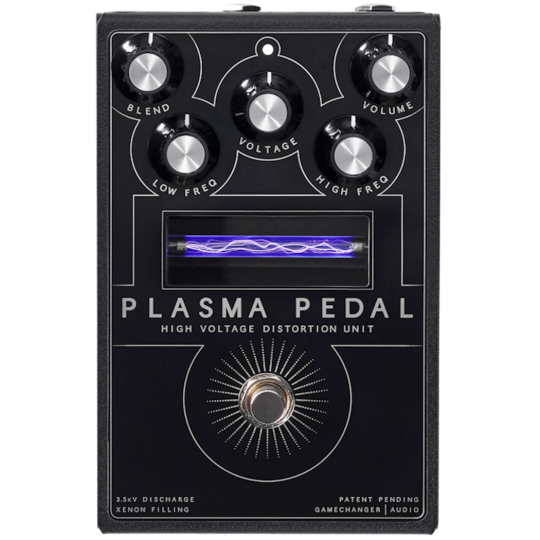 A new level of distortion! The Gamechanger Audio Plasma Pedal is a powerful, first of its kind distortion pedal. It produces its unique and revolutionary sound via a row of high-voltage plasma discharges within a xenon-filled tube. The signal gets directly converted back into an analog audio signal. Thanks to the gas-discharge the Plasma Pedal can produce a natural noise-gate that stops producing any output when not playing the instrument. All in-between noises coming from the instruments pick-ups or humming strings get immediately killed if the Blend knob is on maximum. The Plasma Pedal effect offers a remarkably wide EQ made possible by fluctuations in the electromagnetic field surrounding the gas-discharge tube. The Plasma was produced for guitarists but it also provides musicians working with synths, drum machines and other electronically controlled instruments a rich and useful distortion effect.Sound wise the Gamechanger Audio Plasma is a massive distortion with saturated overtones and harmonics like you have never heard before!Its innovative and uncommon approach plus the unique tone make the Gamechanger Audio Plasma Pedal a unicorn among the pedal effects and we recommend to test it! It's right at your fingertips!