For maximum satisfaction we recommend using Chrome or Firefox as browser
Got it!
Dunlop Electronics Band of Gypsys Fuzz Face Mini Distortion
Jimi Hendrix live tone at your feet. The Dunlop Electronics FFM6 Band of Gypsys Fuzz Face Mini Distortion is the result of a long quest after the sound of Jimi Hendrix's live shows during 1969-1970. The Live at Woodstock, Live at Berkeley, and Live at the Fillmore East fuzz tone came from a mysterious red body & white knobs fuzz face which unfortunately cannot be found today. Gladly the engineers at Dunlop via trial and error found the circuit this pedal was using, and with it the FFM6 was built. Do not let that mini size trick you, the Band Of Gypsys is a hell of a Fuzz. It differs from a traditional Fuzz Face and in fact it is based on a Tycobrahe Octavia circuit. We like this pedal a lot.
Dunlop Electronics Germanium Fuzz Face Mini Distortion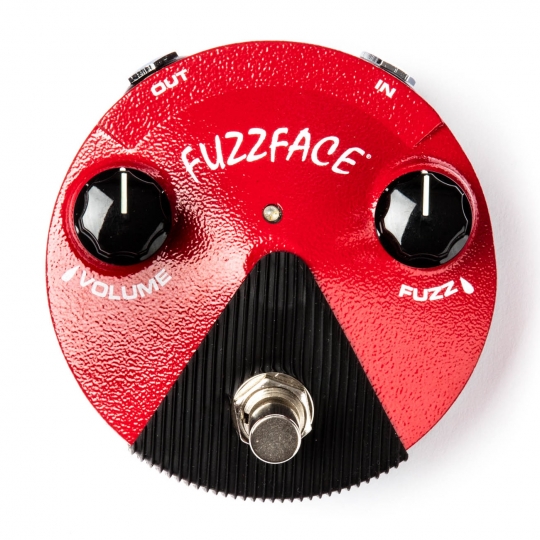 As old school as fuzz gets! Before silicon transistors took over, fuzz pedals were using germanium transistors. The Dunlop Electronics Germanium Fuzz Face Mini (FFM2), as the name suggests, uses these old school germanium transistors that shaped the sound of rock. Germanium transistors are known to sound warmer than silicon ones, and clean better. The FFM2 transitions between clean-dirty-heavily fuzzed tone easily and smoothly, it sounds great and teams perfect with single coil guitars. All in all a very cool old school fuzz in a pedalboard friendly housing.
Dunlop Electronics Silicon Fuzz Face Mini Distortion
The mini version of an epic pedal! Dunlop Electronics created this pedal board friendly version of their iconic Fuzz Face from the 1970's so you all could enjoy epic fuzz tones and save space at the same time. The distinctive, warm vintage character of the Fuzz Face enriches any effects collection and throws you back into vintage territory. The Dunlop Silicon Fuzz Face Mini Distortion FFM1 uses BC108 silicon transistors which give the pedal an aggressive sound with a lot of brightness. We enjoyed rocking with the Silicon Fuzz Face Mini Distortion, it's great how vintage it sounds, yet so easy to use thanks to modern specs like the bright Status LED, the AC power jack and the accessible battery compartment. Be sure to compare the silicon version to the germanium one found on TonePedia.