For maximum satisfaction we recommend using Chrome or Firefox as browser
Got it!
Beetronics Fatbee Overdrive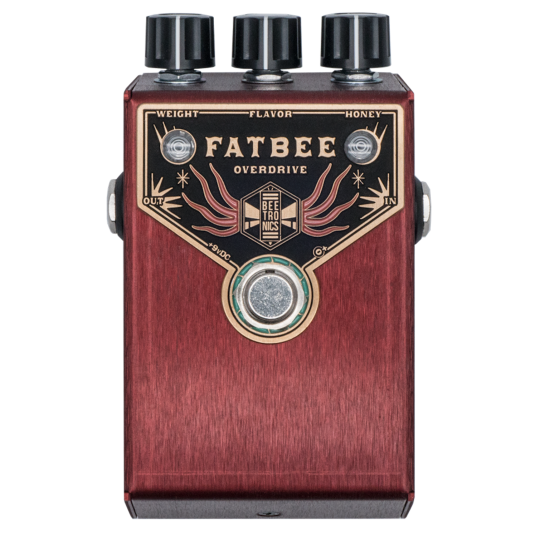 A Buzzing Good Drive Let us establish a fact, the term overdrive encompasses a huge range of tones. These tones in turn can be put into sub-genres and so on. What really makes a huge difference is how the clipping of the tone is achieved, don't worry we're not about to get technical. It's widely agreed that Fet drives sound the most amp like, this is because Fets behave like a valve/tube so the break up (clipping) you hear is far more natural. And so it is that we have here the Fatbee overdrive from Beetronics, a new JFET based drive with a surprising heritage. This pedal is a result of a collaboration with a pedal legend, Mr. Howard Davis. This man is responsible for many of the Electro Harmonix golden era pedals including the Deluxe Memory Man and Deluxe Electric Mistress, so you can expect good things!From our demo you can clearly hear how the pedal has plenty of gain on tap but doesn't get fizzy, instead it manages to maintain clarity and raw clear crunch tones most of the way. At higher levels the Fatbee becomes a little fuzz (buzz?) like which can be(e) great fun. Just like an amp the fatbee responds well to playing dynamics and different guitars which gives the player great versatility from a three knob pedal. 
Beetronics Vezzpa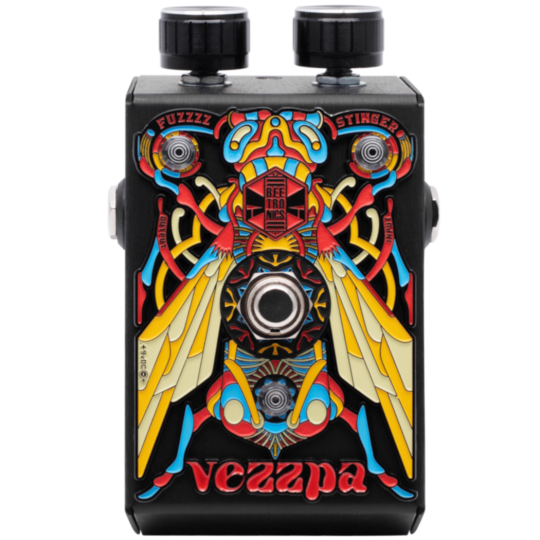 Buzz Buzz Pop Pop The term Fuzz has become very generic over the years, even the difference between a fuzz face and Big Muff is fairly large but when we start to look at more gated high gain fuzzes featuring octave switching it becomes an entire different ball game.The Vezzpa is definitely of the later and purposely so. Beetronics amusingly refer to the tone as "wasp like" and to be fair to them this is pretty accurate at high gain settings, however when you turn the sustain down the pedal becomes spitty and poppy ... not unlike a Vespa Scooter ... you see what they did there!?Very clever use of the footswitch gives the player lots of options via different presses for example with the pedal engaged hit the the switch twice quickly to switch the upper octave on/off, Beetronics calls this "Stinger Mode" . Another great idea is when the pedal is bypassed, if you press and hold the footswitch the pedal will only engage until you release it (momentary mode).Of course its also possible to use this just like a normal pedal by just using the switch as normal to turn the pedal on/off. All in all this is a great new addition to the fuzz world which we're pleased to bring you on release day!