For maximum satisfaction we recommend using Chrome or Firefox as browser
Got it!
Atkin Guitars
Established in 1995, Atkin guitars which once was a one man show, is now a four man operation which produces 80 acoustic guitars a year. Their approach in guitar making is somewhat different to the one of other premium high end guitar makers. Atkin guitars do not try to be "perfect" in terms of the looks of their guitars, for them a guitar is not an exhibition piece but an inspiration for the musician and as such, they try to give their guitar personality.

Each Atkin guitar is built by hand in the factory, into it an immense amount of guitar history and building techniques is being poured. This explains the "vintage" feel there is to Atkin guitars, which is often how musicians and shop keepers around the world describe them.
Visit manufacturer page
Atkin Guitars LG47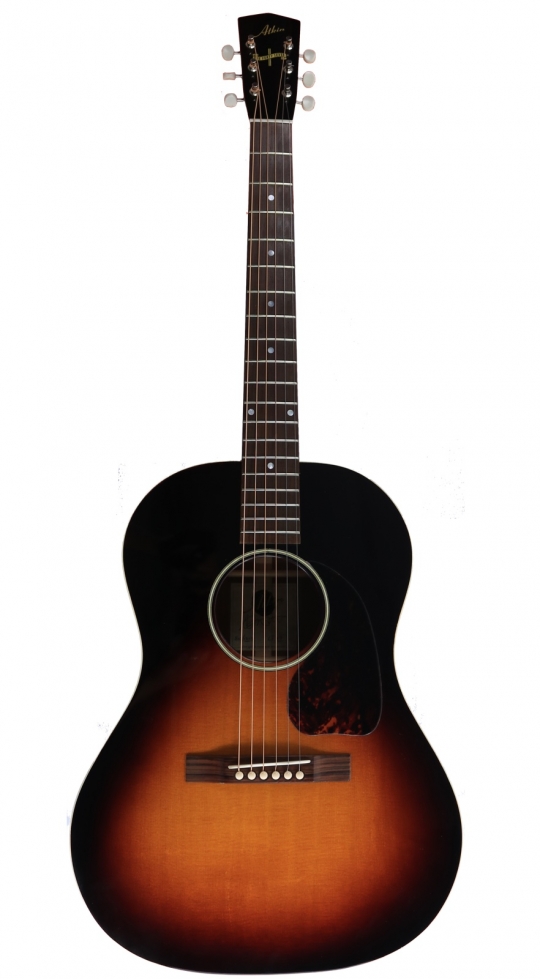 Incredible for fingerstyle. Thanks to Atkin's scalloped bracing system, the LG47 produces a loud and healthy tone despite being a small bodied guitar. This, along with the choice of woods, make the Atkin LG47 not only great for fingerstyle, which is the bread and butter of this guitar, but also for flat picking, hybrid picking and light strumming when backing vocals for example. In hand, the LG47 feels light and fun to play. Atkin Guitars chose (wisely in our opinion) to feature on this guitar their standard C shape neck instead of the common baseball bat neck size found on vintage Gibson LG examples. In our opinion you will find the Atkin LG47 a great singer songwriter companion. We also think that this guitar will work well with an L.R Baggs system, should you decide to amplify your Atkin LG47 guitar down the road.
Atkin Guitars J-Amazing the 45 sunburst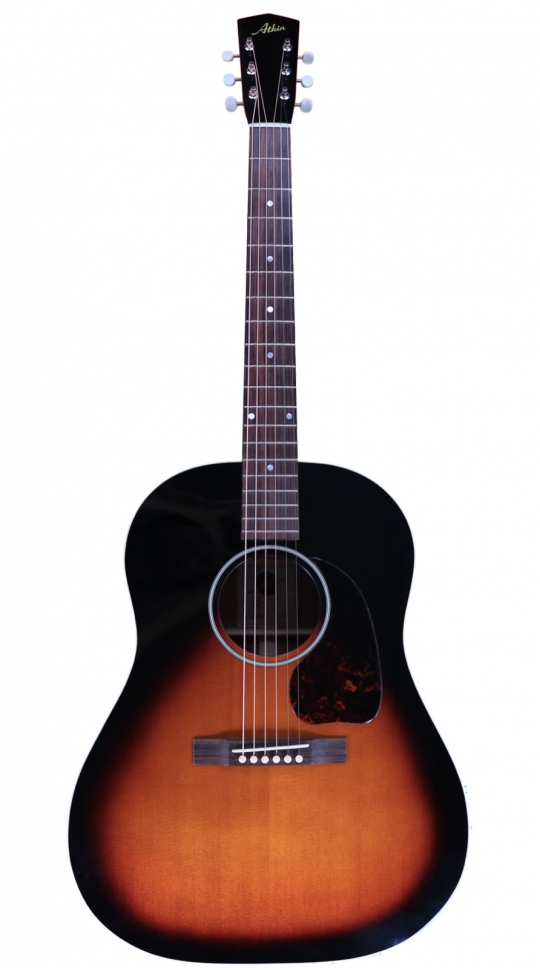 A more affordable version of the Atkins Forty-Three. This Banner era style guitar is the brainchild of two great companies, a guitar luthier and a shop. The Fellowship Of Acoustics, one of the biggest acoustic guitar shops in Europe begged Atkin Guitars to create a more affordable version of the Atkin Guitars Forty-Three Relic guitar. The result, the Atkin Guitars J-Amazing the 45 sunburst, has left us in awe. We really like this guitar and although we could not compare it to the actual Forty-Three or original Banner era Gibson J45, we can tell you that it has a vintage, full, beautiful and inspiring sound.
Atkin Guitars Hawaiian Master Roy Smeck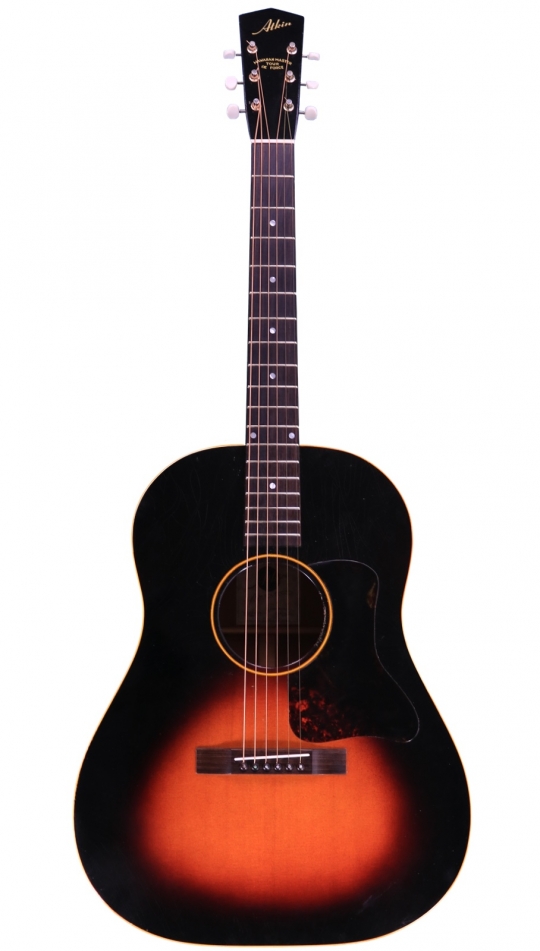 Reviving the Roy Smeck Stage Deluxe. The Atkin Guitars Hawaiian Master is built after the scarce Gibson Roy Smeck Stage Deluxe signature model of the '30s. The jumbo sized original guitar was a 12 fret flat top, set up with high string action for slide playing. The Atkin Hawaiian master shares similar characteristics but come with standard string action for contemporary playing. The lightly braced torrified spruce top and mahogany body in combination with the short scale length delivers a superb tone which left us in awe. Thanks to the 1.75" / 45mm nut width and 2.25" / 58mm string spacing, the Atkin Guitars Hawaiian Master Roy Smeck fits perfectly for fingerpicking, ragtime, flat picking and hybrid. That is not to say you cannot strum it of course, it can definitely strum too! What a fine 12 fret dreadnought model.