For maximum satisfaction we recommend using Chrome or Firefox as browser
Got it!
Aclam Cinnamon Drive
It Actually Smells Like Cinnamon! The team over at Aclam have a great ear for re-producing amp like tones in a pedal. They've done this by following amp circuits and swapping out the Valves/Tubes for FETs which behave in a very similar way but are much smaller. On the Cinnamon drive however the aim wasn't to replicate a single amp, instead its the sound of an era. The 60's and 70's saw the likes of Hendrix, Clapton and many many more pushing their amps like never before, so by using a mixture of a soft clipping circuit as the main tone and a hard clipping circuit in the boost section you can recreate your favourite classic rock tones to an epic degree!Oh and did we mention, it smells like cinnamon. 
Aclam Windmiller Drive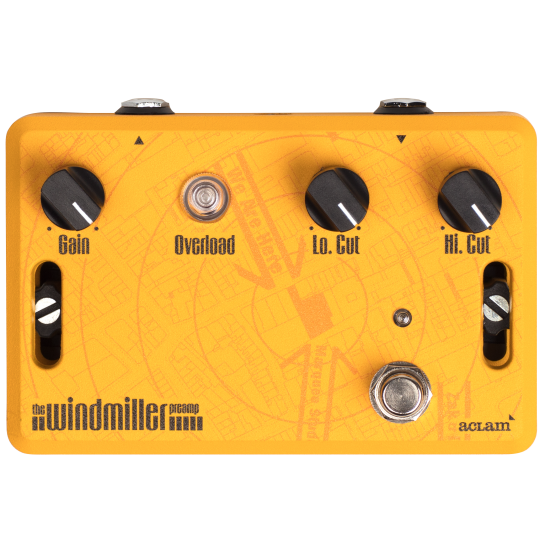 Tones You Never Knew You Knew Aclam have been extremely successful in creating amazing tones of classic famous rigs outside of the normal "Marshall in a box" territory. The Cinnamon drive focused on tones of an era where-as the Dr. Roberts unlocked George Harrison's tones from Sg. Peppers all of which we've grown up with. Now ... its the turn of The Who, and in particular Pete Townsend's secret tone device. You may have heard how some guitarists such as Jimmy Page used the pre amp of an Echo Plex delay to thicken up their tone and to give their amps a nice push!? Well Pete Townsend got his unique tones around '67 from the pre-amp of a reverb unit called the Grampian 636 Spring Reverb. The Windmiller is Aclam's recreation of this extremely rare reverbs pre-amp, they've fine tuned it to remove the originals phenomenal amount of hiss and it now works well with all types of amps and pick -up types. Each of the Aclam pedals is a slice of history recreated for you to recreate on your board.  
Aclam Dr. Robert
No Beatles Were Harmed In The Making Of This Pedal Its a funny thing that the biggest guitar band in history has very little signature or inspired by gear. Aclam, a Barcelona based company must have thought this too as they have released a pedal to emulate one of the Amps George Harrison used on Sg. Pepper & Revolver.The amp in question is Vox UL730, this was very much ahead of its time as a hybrid amp with a transistor pre-amp and valve/tube power amp. The tones are instantly recognisable yet this overdrive sounds like no other drive pedal on the market which is refreshing yet amazing since these are 60 + year old tunes we're chasing here. At Tonepedia we LOVE the Beatles and the level of detail has not gone amiss, such as the artwork by Klaus Voorman (Artist for Revolver) and the Mach Schau! switch which are lovely touches. So this pedal is a real treat to work with. Hope you love it as much as we do.